Please take 5 minutes to read our fantastic reviews from the Baby Website
http://www.thebabywebsite.com/review.My_Car_Step.htm
———————————————————————————
We have had a fantastic review from the one and only Katy Hill:
http://katyhillsblog.com/2013/10/13/kids-roundup-this-month-im-loving/
———————————————————————————
WE WON!!! YAY
WE ARE THE BEST MUMPRENEUR PRODUCT 2013
———————————————————————————
We had some great reviews thanks to the family testers at 'The baby website' 5 out of 5 off all three testers
"Brilliant idea. "
Had this product for some time in my husband's  car and we have found it very useful. Our daughter (19 months) likes to use the  step to help her climb down from the seat.
We also liked that the  simplicity of the product meant no fiddly installation was needed, it took a few  seconds to put in the car. The step is made of very strong plastic and will  undoubtedly last as long as we will need it.
Great idea and value.
"Great"
My youngest daughter loves the fact that she can be  independent and climb into her car seat just like her big sister! It's so easy  to put in and easy for them to use! Great value and appears very well made!  Great design and a fantastic idea for independent kiddies!
Great for toddler "
I have been using the car step for a few days  now and can say it has been very helpful whilst being pregnant! My 20 month old  daughter likes to be very independent and she gets very excited when I let her  step up onto it and sit herself into the carseat. She happily lets me fasten her  in as I think she feels like she has done it of her own accord. It has  definitely made car seat tantrums minimal. It has really helped me as I am in  the last stages of pregnancy and feel I don't have to lift her as high or battle  with her to get in the seat. It is good value for money (I think it is around  £24.99) and I would happily pay this for fewer tantrums (I'm sure most parents  would!)
Also, really easy to fit, just put it under the carseat and fasten  the carseat in your usual fashion – we have isofix points. I was worried it  might slide about but it doesn't. Really simple design, you can't go wrong  really!
To read more from the reviews visit the below link:
http://www.thebabywebsite.com/review.My_Car_Step.htm
———————————————————————————
I am so excited to announce that My car step is now a finalist in the Mumpreneur 2013 Best product award
———————————————————————————
We are really excited and proud to announce that JoJo Maman Bebe are now stocking My car step
———————————————————————————
We have had a great shout out from Bizziebaby recently take a look: http://www.bizziebaby.co.uk/news-bizzie-baby-details.asp?NewsID=1154
———————————————————————————
We can now officially say that we have been recommended by:
———————————————————————————
Make sure you keep your eyes peeled because in August we will be stocked in….  Very excited
———————————————————————————
We are thrilled to have won another award. Mycarstep.com have just won a mumpreneur Bronze award for the website.  Thanks to Emma Laura Jones for designing and building the website, couldn't have done it without you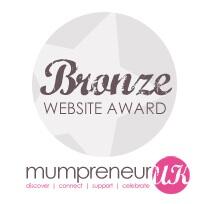 ———————————————————————————
We have also had a feature in our local newspaper: http://www.campaignseries.co.uk/news/campaign_news/10270348.Nelson_mum_s_idea_gets_kids_into_cars_the_easy_way/
———————————————————————————
If you don't have a copy of this months Mumpreneur magazine, don't worry you can find a copy by following this link: http://issuu.com/mumpreneuruk/docs/issue3?mode=embed&layout=http%3A%2F%2Fskin.issuu.com%2Fv%2Flight%2Flayout.xml&showFlipBtn=true
We might have a little article in there
———————————————————————————
A great quote from a happy customer: 'I got my car step and it is FAB!'.
———————————————————————————
Here at My Car Step we are delighted to have been nominated for the Mumpreneur 2013 awards. 
———————————————————————————
We are so proud and happy to announce that we have WON a bronze award, thanks to the Bizziebaby testers.  here are the reviews:
Tester Awarded My Car Step 5/5
I thought this looked like a very sturdy product.  There was NO need for any outer packaging except postage packing and this was fine. The instructions were very clear and precise. This step fitted perfectly underneath our car seat;  I was worried that it would be too big but fitted perfectly. It was very easy to install. My just turned 2 year old LOVED this!  She is very independent. It made the process of getting her into the car easier; as no longer had to fight with her to get into her car seat!!  The quality is excellent; very sturdy and imagine will last a long time. I think it offers excellent value for money; even if just for the fact no longer have to fight to get her into the car. I would definitely consider buying this product.  It is perfect. I have already told my friends and family about it.  Fantastic product, very easy to install and does exactly what it says it does! It is worth everypenny of the £39.99 cost price.  child 2 Years old
 Tester awarded My Car Step 4.7/5
I thought this was a great idea when I first saw it. My little boy wants to do everything himself and gets a little frustrated when he can't. The packaging was basic which was fine.  I hate products with un-necessary packaging. The instructions were simple and easy to follow.  This step fitted nice underneath our car seat and felt very secure.  This is one of the things I was worried about but it really surprised me at how secure it was. It was very easy to install.  Zac loved using this step as he could do it himself. He claps his hands each time he gets into his seat now.  It definitely makes the process of getting him in the car easier.  The quality of the product is superb and looks like it will last a long time.  It is definitely worth the money. I would consider buying this now and have already recommended it to others.  It is a great invention. My son loves using this step and is great at giving your child a feeling of independence.  Child 2 Years old
Tester awarded My Car Step 3.7/5
I thought that the step looked sturdy. I was impressed at how simple an idea it was and was looking forward to seeing how well it was going to work. The packaging did not look very professional as it arrived in a plastic postage bag with no padding. The instructions were nice and clear, and I like the way they are stuck to the step.  It fitted ok underneath our car seat, as the step is so rigid I felt that there was a little space underneath where it doesn't sit flat on the car seats as the baby's car seat does.  It is very easy to install, just a case of moving the car seat and placing it underneath. I tried to encourage Isaac to use the step but it was still quite high from the floor of the car for his little legs to reach. I found that I had to lift him onto it, but when I did this he occasionally got him-self in the chair but mostof the time he would just mess about and I found I was lifting him into his seat anyway. In principal I can see how this could help and I expect that it would help my four year old into her booster seat easier, but more often than not it made getting my son into his seat a bit more of a struggle. The quality is excellent; made of sturdy, strong material; I think it would be hard to damage it. Unfortunately for me this did not work. If I found twisting to be a problem I think I would be more inclined to pay a little more and get a car seat step that turns. There is no way to improve it; does what it says on the tin(in theory) just not for me. I can see where the idea has come from and understand how this can help, but if you have a child who will not cooperate, or one with little legs I think you just go back to basics to get them into the car. child 23 Months old
———————————————————————————
We had a lovely article written in our local press today (South Wales Echo), here's the link:
http://www.walesonline.co.uk/showbiz-and-lifestyle/showbiz/2013/01/15/mums-making-money-out-of-their-own-inventions-91466-32597790/
Mums making money out of their own inventions
————————————————————————————
I have just read this great article in parenting magazine about the importance of car seat safety and the simple errors that we make when installing a child's car seat.  http://www.parenting.com/gallery/car-seat-laws-requirements-installation?pnid=318443  My Car Step is compatible with top tether isofix car seats.
————————————————————————————
I would like to THANK you all for supporting me through 2012 and look forward to your continued support in 2013.  Can I take this opportunity to wish you all a very HAPPY NEW YEAR and hope that it is a prosperous year for you all
————————————————————————————
Here at My Car step we are excited to announce that www.mumsandme.com are running a competition, where you can win not 1 but 2 car steps. All you need to do is share the link or like their facebook page, it's as simple as that!  So head over to their Facebook or twitter page for more details, and good luck to you all
————————————————————————————
During the Cardiff Baby and Toddler show I met Lorraine and her lovely daughter.  After the show I contacted Lorraine and she was happy to right an interview about My Car Step and my journey so far.  Please take a look, from the link below.
http://squeakybaby.blogspot.co.uk/2012/12/my-car-step-interview.html
————————————————————————————
We can't wait to see everyone at the Cardiff Baby & Toddler show, where My Car Step will be exhibiting. We looking forward to seeing all the great products on show, and with Christmas just around the corner, we're thinking there may be some gifts we haven't seen anywhere else. And as if that wasn't enough excitement, it's all happening on my birthday, so if you're lucky I may even share some birthday cake with you!
Cardiff Baby & Toddler show is at Cardiff City Hall on Sunday 18th November from 10am—4pm.
Tickets are £4 which you can either buy online here or pay on the day. Kids of course get in free.
We hope to see you there!
————————————————————————————